Most Expensive Home in Los Angeles
Posted by Tony Mariotti on Saturday, November 29, 2014 at 8:49 AM
By Tony Mariotti / November 29, 2014
Comment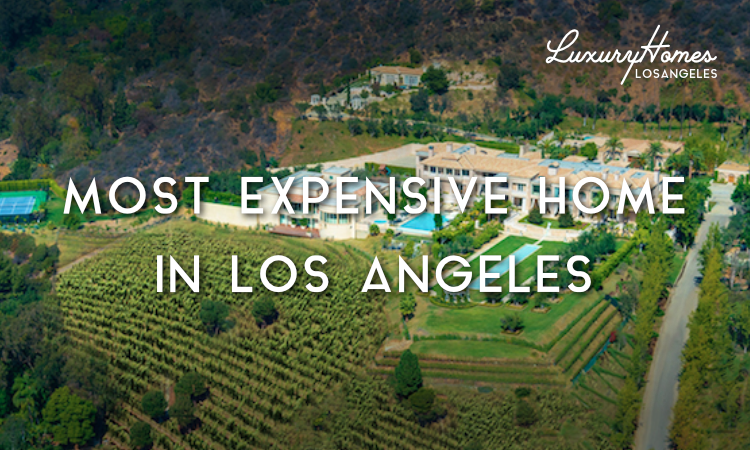 At the end of a quarter mile private driveway sits a mansion named Palazzo di Amore. 9505 Lania Lane is sited on a private 25-acre knoll high above the cities of Los Angeles and Beverly Hills. In 2007, billionaire real estate investor Jeff Greene paid $35 million for a shell (aka unfinished structure) constructed by prolific mega-mansion developer Mohamed Hadid. Greene then spent another $25 million to turn the blank-slate project into his dream home. Greene was married in the home (hence the Palace of Love moniker) and has made it available for rent since he no longer lives in California. In 2009, the home was first offered as a rental for the princely sum of $250,000 per month then raised this year to $475,000 a month. Greene has decided to take advantage of recent blockbuster sales in Los Angeles to list the home for $195 million. The asking price would make 9505 Lania Lane the most expensive home in Los Angeles as well as the highest-priced listing in the US.
The rare offering of a home of this caliber is not for everyone but for the select group of high net worth individuals who are billionaires. Based on recent trends in Los Angeles, the home is likely to find a foreign buyer among Chinese business titans and the royal families from an oil-producing country or a billionaire already living in Los Angeles. The purchase of Palazzo di Amore could be everything a high net worth individual ever dreamed of and never thought they could have in Los Angeles. The property located at 9505 Lania Lane encompasses 25 acres in the foothills of the Santa Monica Mountains overlooking the city lights of the Los Angeles basin and the Pacific Ocean.
The 53,000 square foot compound comes complete with a 35,000 square foot main house, a guesthouse, private drivers' quarters, 12 bedrooms, 23 bathrooms, a reflecting pool and fountain, a swimming pool, a tennis court, formal gardens, two wine cellars, a 15,000 square foot entertainment complex with revolving dance floor and DJ booth, a 50-seat state-of-the-art movie theater, a bowling alley, and a game room. Since the home can accommodate 250 guests for a relatively intimate dinner or host 1000 guests for larger events the garage was built to hold 27 cars with on-site parking for 150 cars. This home has everything the average billionaire requires in their Los Angeles home and it comes with the most important feature: a world-famous 90210 zip code. Although the home is located in the Los Angeles neighborhood known as Beverly Crest (a.k.a. Beverly Hills Post Office), the mailing address is written:
9505 Lania Lane
Beverly Hills, CA 90210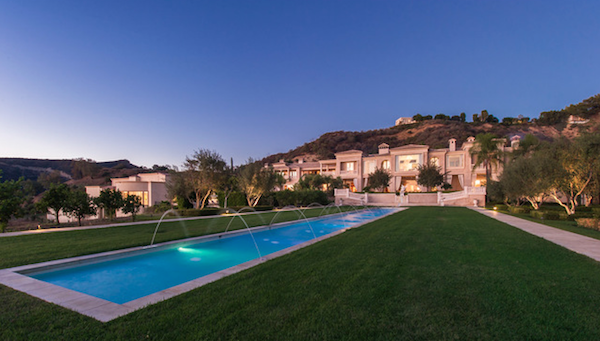 The price may seem like an outlandish ploy to draw attention to the listing, but it is supported by the recent sale of Fleur de Lys in Holmby Hills, a home with 19 fewer acres, 15,000 less square feet, and no views. If the price still seems ambitious, consider the competition:
Petra Ecclestone is quietly shopping The Manor for $150 million after she bought from Candy Spelling in 2011 for $85 million. Rumors suggest she will sell for less, as long as it sells for more than the $102 million paid for Fleur de Lys, a home she nearly bought before walking away from the deal.
Owlwood, a home with provenance of architecture and past owners on 10 acres in Holmby Hills, is asking for $150 million in an off-market listing.
Beverly House in Beverly Hills is also available as a pocket listing for $150 million. This is home with a history that includes William Randolph Hurst, Marion Davies, John F. Kennedy, The Godfather, and The Bodyguard.
Regardless of the comps, the seller can ask any amount they want, but the question is if a buyer will actually spend $3679.25 a square foot? Probably not. Most homes commanding that price per square foot or higher tend to have a pedigree (historic architecture, famous residents, some notoriety, or a combination of all three) or are beach front homes in Malibu. But since this home does have what no other home has in the 90201 zip code (50,000 square feet on 25 acres, newer construction, and a working vineyard) I won't be surprised if it does sell or if it breaks records with the sale price. A sale anywhere near asking price will result in the first true $100 million sale of a home in Los Angeles. And if a buyer parts with more than $120 million, Palazzo di Amore will hold the title for the most anyone has ever paid for a single-family home in the United States.
UPDATE: The asking price was reduced to $149 million on September 3, 2015 after 297 days on market.