Homes for Sale in Bel Air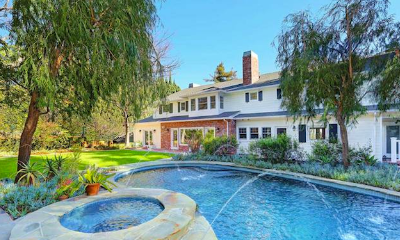 Bel Air is one of the three communities (along with Holmby Hills and Beverly Hills) that comprise the "Platinum Triangle" in Los Angeles. Located along the foothills of the Santa Monica Mountains, Bel Air was designed as an estates community when it was first founded and developed by Alphonzo E. Bell in 1923.
Bel Air real estate is governed by local ordinances that regulate lot size and architectural styles. The rules also forbid nearly all multi-family housing, which explains, in part, why Bel Air has the highest median household income of any area in Los Angeles. Privacy and solitude are part of Bel Air's appeal; the neighborhood has one of the lowest population densities in Los Angeles with only 8,261 residents in six square miles.
Jump to: Bel Air Homes | Bel Air Info
Latest Bel Air Real Estate Listings
Bel Air Real Estate Market
June 25, 2019
$1,204.05
Avg. $ / Sq.Ft.
$5,995,000
Med. List Price
Bel Air Information
Bel Air is located in the 90077 and 90049 zip codes and is bordered by Beverly Crest to the east, Westwood and UCLA to the South, Brentwood and the 405 Freeway to the west, and Sherman Oaks to the north. In addition to several other entrances, Bel Air has two iconic main gates off Sunset Boulevard: The West Gate at Bellagio Road and Sunset Boulevard, opposite an entrance to UCLA, and the East Gate at Beverly Glen Boulevard and Sunset Boulevard.
Bel Air is commonly recognized as containing three neighborhoods: East Gate Old Bel Air, West Gate Bel Air, and Upper Bel Air, which is further divided into Bel Air Crest, Bel Air Ridge, Stone Ridge Estates, and Bel Air Glen. Bel Air Crest, Moraga Estates, and Stone Ridge Estates are guard-gated communities in Bel Air. Generally, the largest lots and mansions are located in lower Bel Air near Sunset Boulevard, with lots becoming smaller and homes more modest as you travel up the mountain.
As one of the early marketing brochures declared, "Bel Air is different. Like the painting of an artist, it is the dream of one man—Alphonso E. Bell." Bel Air was built according to the vision of its founder and developer, one example being the street names in Bel Air were named after places Bell and his wife visited in France, Spain, and Tuscany during a 1924 European tour. Bell marketed Bel Air as "a community of gentleman's estates" promising "the last word in improvements will prevail throughout," and was the first community in Los Angeles to bury all electric, gas, water, and phone lines.
A sales brochure set the stage for architectural harmony, saying, "You want a distinctive house. Don't forget that there is a far finer distinction in aristocratic humility than there is in insistent calling attention to yourself. The latter impresses some but those whose opinions in such matters is worth having, are attracted rather by an evident regard for neighborhood harmony."
Like Beverly Hills before, Bell established many restrictions on his new community such as barring certain races and all movie people. The first movie person who was turned away was even a college friend of Bell. Fred Thomson, a cowboy star, and his wife, Francis Marion, Mary Pickford's favorite screenwriter, tried to purchase a lot. Bell is alleged to have said, "I'm terribly sorry you became an actor, Fred. I've made it a law— not one acre of my land is to be sold to actors...." Bell's religious beliefs had him ban Sunday sales for land plots and alcohol in the two Bel Air clubs and the one restaurant on his land. When members began carrying flasks, he banned those as well.
Bell's racist restrictions were lifted long ago, property sales are permitted on Sundays, and Bel Air clubs are no longer dry. Today, liquor flows freely at the Bel-Air Country Club and the Hotel Bel-Air, a famous hotel known as the world's first boutique hotel, and both are important pieces to social life in Bel Air.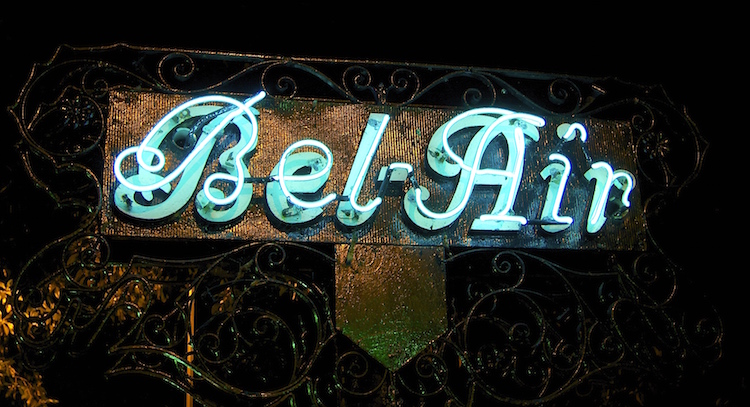 Famous Bel Air Estates and Homes:
750 Bel Air Road (a.k.a. The Beverly Hillbillies mansion) - used for exterior shots of the Beverly Hillbillies home. Architect: Sumner Spaulding
1811 Bel Air Road: Case Study House No. 16. Listed on the National Register of Historic Places. Architect: Craig Ellwood
430 Amapola Lane: The Spice Girls were formed on the patio of this home
10410 Bellagio Road: 1931 Spanish Colonial Revival home. Original architect was Paul Williams, but the home was expanded and extensively renovated in 2007
10475 Bellagio Road: Former home of Renee Zellweger and Debra Messing. Architect: Paul Williams
10539 Bellagio Road: Former residence of Sol Wurtzel, Elvis Presley, Howard Hughes, Prince Rainier of Monaco, and Bill Bell. Architect: Wallace Neff
10807 Bellagio Road: 1998 Contemporary Architectural. Architect: Hugh Newell Jacobsen
10644 Bellagio Road (a.k.a. Casa Encantada and Bellagio House): Former home of Conrad Hilton. Architect: James E. Dolena; Landscape Architect: Morton Purdy
11630 Bellagio Road: 1940 Country Colonial farmhouse. Architect: Gerard Colcord
526 Bellagio Terrace: 1967 mid-century post-and-beam. Architects: Matlin & Dvoretzky
10211 Chrysanthemum Lane: 1991 International style home. Architect: Richard Dodson
364 St. Cloud Road: Former home of Sony and Cher and current residence of Larry Flynt. Architect: Garrett van Pelt
616 Nimes Road (a.k.a. Lionsgate Estate or Lionsgate): Former home of Kenny Rogers and Nancy Davis. Architect: Paul Williams
15000 Mulholland Drive (Singleton House): Former home of Vidal Sassoon. Architect: Richard Neutra
15154 Mulholland Drive: 1950 post-and-beam design mid-century modern architectural home. Former home of Case Study architect Rodney Walker. Architect: Rodney Walker
15171 Mulholland Drive: 1959 mid-century modern architectural home. Architect: Edward Fickett
2170 Stradella Road: 2014 architectural home perched atop Stone Canyon Reservoir. Architect: Patrick J. Killen
909 North Beverly Glen Boulevard (a.k.a. Broughton House): A modular home, built in a style situated between a traditional post-and-beam and steel beam design reminiscent of Mies. Architect: Craig Ellwood
10778 Chalon Road: Jacobean home built in 1927. Former home of Dole Food Co. Chairman and CEO David Murdock. Architect: Gordon B. Kaufmann
1280 Stone Canyon Road: Former home of Betty Grable, Stephen Stills of Crosby, Stills & Nash, and Jaclyn Smith from Charlie's Angels
1492 Stone Canyon Road: Restored 1940 French Country Estate. Home of Sela Ward. Architect: Samuel Marx
1704 Stone Canyon Road (a.k.a. Zoltan Pali Architectural): 2002 architectural which has been featured in Architectural Digest and won "Home of the Year" Architect: Zoltan Pali
1775 Stone Canyon Road: 1992 modern architectural home. Architect: Kirk Shimazu
121 Udine Way: 1929. Former home of David Brenner and Charles Bronson and Jill Ireland. Architect: Roland Coate
3130 Antelo Road: Former home of Mariah Carey and Nick Cannon
15210 Antelo Place: 1986 architectural home. Home of Shigeki Maruyama. Architect: Ted Tanaka
227 Copa de Oro Road (Whispering Pines Manor): 1929 Georgian-style home. Architect: Paul Williams
1211 Linda Flora Drive: 1979 architectural home. Architect: Charles Moore
1239 Linda Flora Drive: Architectural home. Architect: Patrick Killen
11492 Thurston Circle (a.k.a. Nordlinger House #1): 1948 mid-century modern architectural home. Architect: A. Quincy Jones
11075 Sunset Boulevard: 1941 traditional home. Architect: Arthur W. Hawes
Notable and Celebrity Bel Air Residents (Past and Present):
Ronald Reagan: 40th President of the United States
Nancy Reagan: First Lady and "Just Say No" Spokesperson
Elvis Presley: Musician and Actor
Sony Bono and Cher: Musicians and Entertainers
Alfred Hitchcock: Director
Betty Grable: Actress, Singer, and Dancer
Elizabeth Taylor: Actress
Johnny Carson: Comedian and Television Host
Howard Hughes: Aviator, Business Magnate, Filmmaker, Philanthropist, Investor, Aerospace Engineer, and Eccentric
Mick Jagger: Musician
Tom Jones: Singer
Brian Wilson: Musician
Jennifer Aniston: Actress
Justin Theroux: Actor, Director, and Screenwriter
Prince Rainier III of Monaco: Monarch and Husband of Grace Kelly
Salma Hayek: Actress
Elon Musk: Founder of PayPal, Tesla Motors, and SpaceX
David H. Murdock: Chairman and CEO of Dole Food Company
Marion Davies: Actress and mistress of William Randolph Hearst
Judy Garland: Actress and Singer
Dean Martin: Singer, Actor, and Comedian
Cheryl Tiegs: Model and Actress
Michael Bay: Director and Producer
Johnny Weissmuller: Actor and Competition Swimmer
Vidal Sassoon: Hairdresser and Businessman
Kanye West: Musician
Kim Kardashian: Model and Reality Television Personality
Conrad Hilton: Hotelier
Zsa Zsa Gabor: Actress and Socialite
Brad Alan Grey: Former Chairman and CEO of Paramount Pictures
Michael Eisner: Former CEO of The Walt Disney Company
Andrew Jerrold "Jerry" Perenchio: Former Chairman and CEO of Univision
Louis B. Mayer: Film Producer
Debra Messing: Actress
Leonard Nimoy: Actor, Director, Poet, Singer, and Photographer
Nicholas Cage: Actor
Charles Bronson: Actor
Jill Ireland: Actress and Singer
David Brenner: Stand-Up Comedian and Actor
Stephen Stills: Musician
John Edmund Andrew Phillips: Musician
Nick Cannon: Actor, Comedian, Rapper, Producer, Entrepreneur, and Radio and Television Personality
Mariah Carey: Singer-Songwriter, Actress, and Record Producer
Jennifer Lopez: Musician and Actress
Marc Antony: Musician
Jaclyn Smith: Actress
Zach Vella: Real Estate Developer seen on Million Dollar Listing New York
Renee Zellweger: Actress
Mark Spitznagel: Investor
Larry Flynt: Publisher and First-Amendment Crusader
Bob Newhart: Comedian and Actor
Beny Alagen: Founder of Packard Bell Electronics
Ken Berry: Former EMI Music President
Nancy Berry: Former Vice-Chairman of EMI Music
The Jonas Brothers: Musicians
Terry Semel: Former Chairman and CEO of Yahoo! Incorporated
Sol Wurtzel: Film Producer
Shigeki Maruyama: Professional Golfer