Holmby Hills Homes for Sale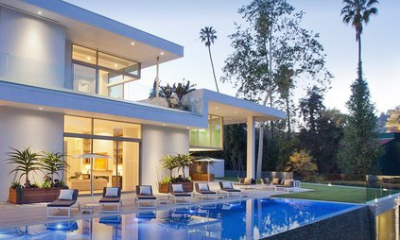 Search all Homby Hills real estate. Holmby Hills is the smallest of the three communities comprising the Platinum Triangle of Los Angeles. Not only is Holmby Hills smaller than Bel Air and Beverly Hills, it is also the most exclusive of the three neighborhoods. Holmby Hills real estate includes recently-built mega mansions and some of the most historic estates in all of Los Angeles.
The community straddles Sunset Boulevard, borders the Los Angeles Country Club, and is home to two parks: Holmby Park and De Neve Square Park, the site of Elvis Presley's famous organized touch football games when he lived in Los Angeles during the 50s and 60s.
Jump to: Holmby Hills Homes | Holmby Hills Info
Latest Holmby Hills Real Estate Listings
Holmby Hills Real Estate Market
July 16, 2019
$4,353.32
Avg. $ / Sq.Ft.
$32,000,000
Med. List Price
Holmby Hills Information
Holmby Hills shares its borders with Bel Air on the north; Beverly Crest, Beverly Hills, and Los Angeles Country Club to the west; and Westwood to the south and east. The area of Holmby Hills north of Sunset Boulevard is located within the 90077 zip code while the 90024 zip code is used the area of Holmby Hills south of Sunset Boulevard. The neighborhood is rich with public parks, lush landscaping, and English-style street lamps that were installed exclusively to the neighborhood in the 1920s.
Holmby Hills was first developed by Arthur Letts, Sr. and the Janss Investment Company, Lett's son-in-law's family business which had over two decades of experience in the subdivision business in and around Los Angeles. In 1919, Letts had purchased 3296 acres of what was Wolfskill Ranch and set aside 400 acres for an estate section that would become Holmby Hills, an area whose name he took from his family home in England and had already used in naming his grand Hollywood estate Holmby House. Letts kept a stake in the land but let the Janss family oversee development, a task they carried on after Letts died in 1923.
The development of Holmby Hills was handled differently than its Platinum Triangle counterparts, with less restrictive deeds on who could and found not buy and what could be built. In fact, the only notable restrictions were those banning commercial structures, requiring minimum setbacks, and forbidding subdividing lots for fifty years. The developers had faith that anyone with the means to purchase in their community would strive to meet a certain standard. As if to hedge their bets on the standards buyers would strive for, the first homes in Holmby Hills were built by two of the Janss brothers, both moving in before the first lots were sold publicly. The homes they built set the standard for style, expense, elegance, and grandeur prospective estate buyers were expected to equal in their own homes.
The Janss Investment Company tried to further set themselves apart from their competition with subtle comparisons like touting Holmby Hills sites as offering elevated views "without steep grades" and by practicing discretion, with press releases rarely naming anyone who bought a lot.
Famous Holmby Hills Estates and Homes:
100 North Carolwood Drive: Home, then owned by Ed Hardy CEO Hubert Guez, where Michael Jackson was renting for $100,000 per month when he passed away. Architect: Richard Landry; Developer: Mohamed Hadid
301 North Carolwood Drive: Former Home of Barbara Streisand
320 North Carolwood Drive: Former Home of Frank Sinatra. Brad Grey purchased the home, was married there, then demolished the home in 2012 before listing the lot for sale.
325 North Carolwood Drive: Former home of Clark Gable
350 North Carolwood Drive (a.k.a. Fleur de Lys)
355 North Carolwood Drive: Former home of Walt Disney, whose home was demolished due to issues with asbestos
375 North Carolwood Drive: Former home of Harold Janss and Gregory Peck. Architect: Gordon Kaufmann. Home was demolished by Bradley Bell, who bought the property to add 4 acres of gardens to his estate at 391 North Carolwood Drive.
391 North Carolwood Drive: Former home of Rod Stewart. Home of Bradley Bell, who bought and added the property at 375 North Carolwood Drive to his estate
312 North Faring Road (aka: Fanny Brice Estate): Former home of Fanny Brice. Since demolished when Richard and Lauren King set out to renovate and instead tore the home down. An original John Elgin Woolf-designed guesthouse was not demolished during their restoration and still exists on the property. Original architect: John Elgin Woolf. Restoration (or reconstruction) done by: Ferguson & Shamamian Architects, high-end home builder Peter McCoy (blamed for the over-zealous demolition), and landscape architect Nancy Goslee Power
111 North Mapleton Drive: Former home of Aaron Spelling and Joseph Mankiewicz. Architect: Paul Williams
138 North Mapleton Drive: Former home of Casey Kasem and Abraham M. Lurie. Architect: James Dolena
250 Delfern Drive: Home built by Bugsy Siegel, although he never lived there. Former home of Max Factor
384 Delfern Drive (aka: the Singleton House): Architect: Wallace Neff
200 Baroda Drive: Former home of Gary Cooper. Estate now includes the lot at 240 Baroda Drive. Architect A. Quincy Jones
10000 Sunset Boulevard: Former home of Judy Garland, Vincente Minnelli, and their daughter Liza Minnelli; and Howard Hughes. Architect Wallace Neff
10066 Sunset Boulevard: Now demolished. Former home of Edwin Janss, whose family business developed Holmby Hills. Gate to the estate was used in the 1950 film Sunset Blvd. Estate is now incorporated into the Owlwood Estate at 141 South Carolwood Drive
10100 Sunset Boulevard (aka: The Pink Palace): Now demolished. First owned (but never occupied) by Rudy Vallée. Former home of Jayne Mansfield and Mickey Hargitay; and Engelbert Humperdinck. Estate is now incorporated into the Owlwood Estate at 141 South Carolwood Drive
10250 Sunset Boulevard (aka: Maison Du Soleil): 1939 Traditional home. Home of Max Azria. Architect: Paul Williams
141 South Carolwood Drive (aka: Owlwood): Former home of Joe Schenck; Marilyn Monroe; Tony Curtis; Sonny Bono and Cher; and Cher and Greg Allman. Currently encompasses the lots where the now demolished 10060 Sunset Boulevard and 10100 Sunset Boulevard once stood. Architect: Robert D. Farquhar
10236 Charing Cross Road (aka: Playboy mansion): Former home of Arthur Letts, Jr., son of Arthur Letts, Holmby Hills co-founder and developer. Former home of Hugh Hefner (who rented the property from Playboy Enterprises) and numerous Playboy Playmates. Architect: Arthur R. Kelly
360 South Mapleton Drive (aka: Brody House): A Mid-Century Modern masterpiece designed in 1949 by architect A. Quincy Jones, interior designer Billy Haines, and landscape architect Garrett Eckbo. Purchased by Ellen DeGeneres and Portia de Rossi
515 South Mapleton Drive: Former home of Joan Bennett. Architect: Wallace Neff
545 South Mapleton Drive (aka: The Mapleton Estate): Former home of W. Howard Lester. Architect: Robert Sinclair and Designer: Mark Boone
594 South Mapleton Drive (aka: The Manor): Site of the now demolished former home of Bing Crosby originally designed by architect George Kaufmann. After demolishing the previous structure, the Spellings (Aaron, Candy, and Tori) built their home, The Manor, the largest home in Los Angeles. Current home of Petra Ecclestone. Architect of The Manor: James Langenheim & Associates
Notable and Celebrity Holmby Hills Residents (Past and Present):
Walt Disney: Co-Founder of The Walt Disney Company
Frank Sinatra: Singer and Actor
Engelbert Humperdinck: Singer
Barbara Streisand: Musician and Actress
Rod Stewart: Singer-Songwriter
Sonny Bono: Recording Artist, Record Producer, Actor, and Congressman
Cher: Singer and Actress
Gregg Allman: Musician
Athur Letts, Jr.: Son of Arthur Letts, Holmby Hills Developer and Co-Founder
Edwin Janss: Co-Founder and Developer of Holmby Hills
Harold Janss: Co-Founder and Developer of Holmby Hills
Bing Crosby: Actor and Singer
Neil Diamond: Musician
Clark Gable: Actor
Gary Cooper: Actor
Howard Hughes: Aviator, Business Magnate, Filmmaker, Philanthropist, Investor, and Aerospace Engineer
Danny DeVito: Actor
Rhea Perlman: Actress
Casey Kasem: Radio Personality and Voice Actor
Jean Kasem: Actress
Judy Garland: Actress and Singer
Vincente Minnelli: Director
Liza Minelli: Actress, Singer, and Dancer
Aaron Spelling: Producer
Gregory Peck: Actor
Hugh Hefner: Magazine Publisher, Chief Creative Officer, and Founder of Playboy Enterprises
Joe Schenck: Film Executive
Marilyn Monroe: Actress, Model, and Sex Symbol
Jayne Mansfield: Actress, Singer, Playboy Playmate, and Sex Symbol
Mickey Hargitay: Mr. Universe and Actor
Jack Benny: Comedian and Actor
Jennifer Jones: Actress
Ellen DeGeneres: Comedian, Television Host, and Actress
Portia de Rossi: Actress and Model
Donald Bren: Real Estate Developer
Tony Curtis: Actor
Lloyd Bridges: Actor
Dorothy Bridges: Actress and Poet
Jeff Bridges: Actor
Beau Bridges: Actor
Irene Dunne: Actress and Singer
Kelsey Grammer: Actor
Abraham M. Lurie: Real Estate Developer who shaped Marina Del Rey
Jon Feltheimer: CEO of Lion's Gate Entertainment
Max Azria: Fashion Designer
Alan Ladd: Actor
Petra Ecclestone: Formula One Heiress, Socialite, and Model
Bradley Bell: Soap Opera Writer and Producer
Bill Bell: Soap Opera Producer
Max Factor: Founder of Max Factor & Company
W. Howard Lester: Former CEO of Williams-Sonoma
Sidney Sheldon: Writer
Fanny Brice: Model, Comedian, Singer, and Actress
Brad Grey: Television and Film Producer
Michael Jackson: Singer and Entertainer
Joseph Mankiewicz: Oscar-Winning Director
Joe Roth: Film Executive, Producer, and Director
Joan Bennett: Actress