Malibu Beach Homes for Sale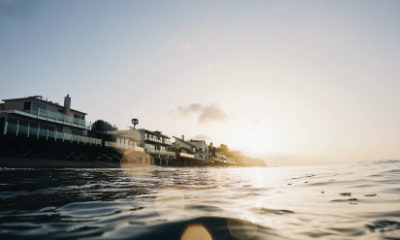 Search all Malibu Beach houses for sale. Malibu hugs 21 miles of Pacific Ocean shoreline in Los Angeles County. Malibu real estate ranges from waterfront bungalows to grand historic estates. The oceanfront property in Malibu is in high demand due to Malibu's promise of beach living within a short drive to the Westside of Los Angeles.
With the limited supply of beachfront property in Malibu, this land is some of the most exclusive property found not only in Los Angeles, but in the entire United States. The listings displayed below only show shoreline properties west of the PCH, but you can also peruse all Malibu real estate, including hillside homes that overlook the ocean.
Latest Malibu Oceanfront Listings
Malibu Beachfront Real Estate Market
September 29, 2020
$3,726.43
Avg. $ / Sq.Ft.
$10,697,500
Med. List Price
Malibu Beach Information
Malibu Beach includes homes within the 90265 zip code. Malibu Beach is found south of the Pacific Coast Highway (a.k.a "PCH") and along the Pacific Ocean shoreline.
Although the wet sand is considered public property in California, beachfront property includes the dry sand down to the tidelands, defined as the area below the mean high tide line. So the general rule is wet sand is public and dry sand (if part of a privately owned parcel) is private.
Important scenes in the Planet of the Apes series were filmed at Point Dume. For an entire summer during filming, a scale replica of the Statue of Liberty from the famous closing scene lay buried at the Southern end of Pirate's Cove.
Neighborhoods within Malibu Beach include: Malibu Colony, Carbon Beach (aka: "Billionaire's Beach"), Point Dume, Broad Beach, Victoria Point, El Matador Beach, Malibu Road, Encinal Bluffs, Big Rock Beach, La Costa Beach, Malibu Cove Colony, Latigo Shores, Escondido Beach, Las Flores Beach, Sea Level Drive, Topanga Beach, and Las Tunas County Beach.
Malibu Beaches:
Surfrider Beach: First World Surfing Reserve site
Zuma Beach
Carbon Beach
Malibu Beach
Malibu Lagoon Beach
Escondido Beach
Topanga Beach
Trancas
Big Dume Beach
Point Dume Beach
Pirate's Cove
Dan Blocker Beach
Westward Beach (aka: Free Zuma)
Nicholas Canyon Beach
Paradise Cove
Famous Malibu Beach Estates and Homes:
21644 Pacific Coast Highway: 1930 Mediterranean beach home. Former home of Charlize Theron
21830 Pacific Coast Highway: 1990 Modern beach house. Former home of Janet Jackson
22108 Pacific Coast Highway: Home of David Geffen being shopped as a pocket listing for $100M
22426 Pacific Coast Highway (aka: The Segel Residence): 1979 architectural estate. Former home of Courtney Cox and David Arquette. Purchased by Frank and Jamie McCourt, former owners of the Los Angeles Dodgers, in 2007 for $33.5 million, a number that represents one of the highest prices paid for a home in Los Angeles based on price per square foot. Architect: John Lautner
23200 Pacific Coast Highway (aka: Adamson House): Andalusian farmhouse. The "Taj Mahal of Tile" was added to the National Register of Historic Places in 1977 and designated as California Historical Landmark No. 966 in 1985. Located next to the Malibu Pier, which was originally built for the family lot. Architect: Stiles O. Clements of the architectural firm of Morgan, Walls & Clements
24910 Pacific Coast Highway: 2001 Mediterranean home. Home of Kym Gold
25040 Pacific Coast Highway: 2014 Modern architectural home. Home of Kurt Rappaport featured in Architectural Digest. Architect: Scott Mitchell
26880 Pacific Coast Highway (aka: La Villa Contenta): 2002 Mediterranean estate
32058 Pacific Coast Highway: 1983 Contemporary architectural home. Featured on the television show "Modern Family." Architect: Marshall Lewis
33618 Pacific Coast Highway: 1960 architectural beach house. Architect: Harry Gesner
41800 Pacific Coast Highway: 2010 Contemporary architectural home. Architect: Ed Niles
27218 Escondido Beach Road: 1965 post and beam Mid-Century Modern architectural home. Photographed by Julius Shulman. Architect: William T. Dreiss
31250 Broad Beach Road (aka: Borman Residence): Architect: Frank Gehery
78 Malibu Colony Road (aka: Stevens Residence): California State Cultural Landmark. Architect: John Lautner
23324 Malibu Colony Road: 1980 home. Home of philanthropist Wallis Annenberg. Renovation architect: Fred Fisher
23445 Malibu Colony Road: 1959 home. Featured in Haute Living. Former home of Pamela Anderson and Tommy Lee
26940 Malibu Cove Colony Drive: 1982 contemporary architectural home. Architect: Ron Goldman, AIA
24752 Malibu Road: 1994 Contemporary architectural home. Published in Architectural Digest. Architects: Kanner Associates
6525 Point Lechuza Drive (aka: LaFetra Beach House): The last built project of Koenig. Architect: Pierre Koenig
28020 Sea Lane Drive: Former home of Garth Brooks and Trisha Yearwood